How to Choose a 10 Wheeler Truck That Meets Your Needs catdumptruck.com | A 10 wheeler truck has a limited capacity for cross-continent transport.
In such a case, it is better to leave this task to larger shipping companies who focus on customs-related services. However, the truck's limited transport capabilities do not prevent it from being a popular choice for local transport in many cities. For more information, read on.
This article will explore the many advantages and disadvantages of this vehicle. You will also learn how to choose a truck that meets your needs.
Hino 500 series FL 10-wheeler truck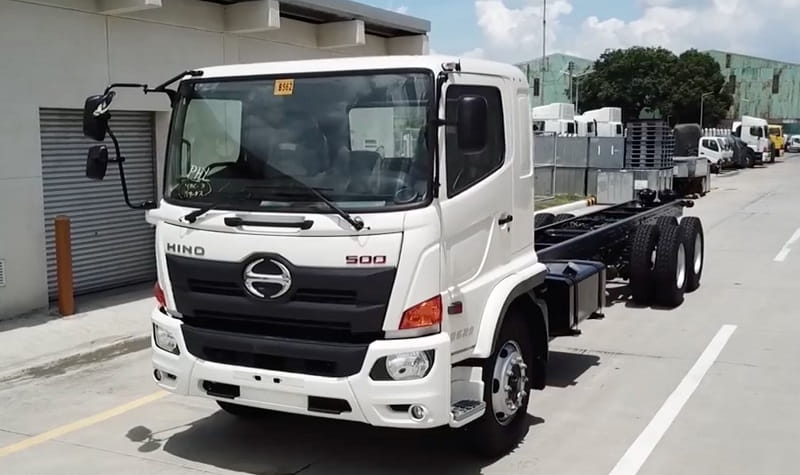 The new 2020 Hino FL 10-wheeler truck is available now in the Philippines, and is part of the 500 series of medium-duty trucks. The new model features enhanced safety, superior reliability, and optimum fuel efficiency.
The company is now accepting orders for the new truck, which will start at P3,775,000. It will be available in 21 dealerships nationwide. For more information about the truck, you can visit the official website.
The Hino FL 10-wheeler truck has a powerful six-cylinder turbo-diesel engine and nine-speed manual gearbox. The truck can support loads of up to 18,620 kg and pull total gross vehicle weight up to 26,000 kg.
It comes with a 320-liter fuel tank and tops out at 108 km/h. It features enhanced driver comfort, air-operated spring brakes, and an ABS.
The Hino FL8J truck is powered by a 7.7-liter, Euro-4 compliant engine. This engine provides 280 horsepower and a reduced carbon emissions.
The truck has a 320-liter fuel capacity, a standard body length of 32ft, and a wheelbase of 7,480mm. In addition to being Euro 4-compliant, the Hino 500 FL8J has an impressive load capacity of 18,620 kg and a gross vehicle weight of 26,000 kg. It uses a Hino J08E engine that produces enhanced output and cooling.
The Hino 500 FL8J features a six-cylinder turbocharged diesel and an intercooled, direct-injected diesel engine. It has a 26,000-kg gross vehicle weight, and dual-circuit air-actuated brakes with anti-lock braking.
Additionally, the truck features ABS for heavy-duty trucks. It is available in six-wheel or eight-wheel drive. Hino continues to develop its product line with new models.
Tata LPK 2518

The Tata LPK 2518 is a 10 wheeler truck with a capacity of 14 and 20 Cubic Meters. It features a ladder-type cabin with perfectly positioned lights.
This truck is available with a single, long or twin axle and boasts of BSIII emission norms. The LPK 2518 is an excellent choice for construction sites, mining sites and other applications where stability is a must.
If you are planning to buy a truck, then you should check out the price list of used Tata LPK 2518. The price listed on Truck Junction includes the details of the seller of the second hand truck.
You can contact the seller through the customer executive to resolve any issues related to the vehicle. Truck Junction's verified listings are available for sale at affordable prices. You can also avail finance options like loan and installment from trusted dealers.
The engine of Tata LPK 2518 is one of the strongest in its class. Its 6-cylinder 5.9-litre engine produces 180 bhp at 2,500 rpm and 700 Nm of torque at 1,500 rpm.
This truck can easily cope with grueling conditions and is capable of carrying up to 25,000 kg of material. There is also a manual gearbox that allows the driver to shift gears easily and efficiently.
How to Choose a 10 Wheeler Truck That Meets Your Needs
Tata Signa 5530.S Tractor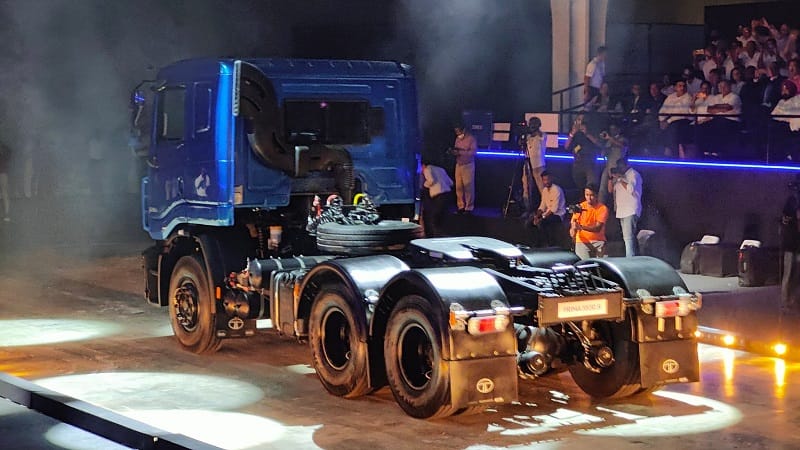 The Tata Signa 5530.S tractor is one of the latest entrants into the ten-wheeler truck segment, and it is powered by a Cummins ISBe 6.7L engine.
It is available in a range of configurations, from 6×2 to 8×4. The truck also has a range of tyres to suit the demands of different kinds of users.
This tractor-trailer is equipped with the power of six that focuses on important aspects of truck use. These include enhanced performance, total cost of ownership, comfort and convenience, and connectivity.
It is also equipped with the latest Signa Cabin, which aims at giving you a better in-cab experience by reducing noise and harshness. As a result, your productivity will be higher and your revenue will increase.
The Tata Signa 5530.S features a 6-cylinder Cummins ISBe 6.7L engine that produces 300 HP and 1100 Nm of torque. It has an overall gross weight of 55000 kg, and can be fitted with a sleeper cabin.
The truck comes with a range of utility features and a superb mileage. If you want to start your own business, this truck can help you make money by ensuring smooth operation and high efficiency.
Mahindra Blazo X 28 Truck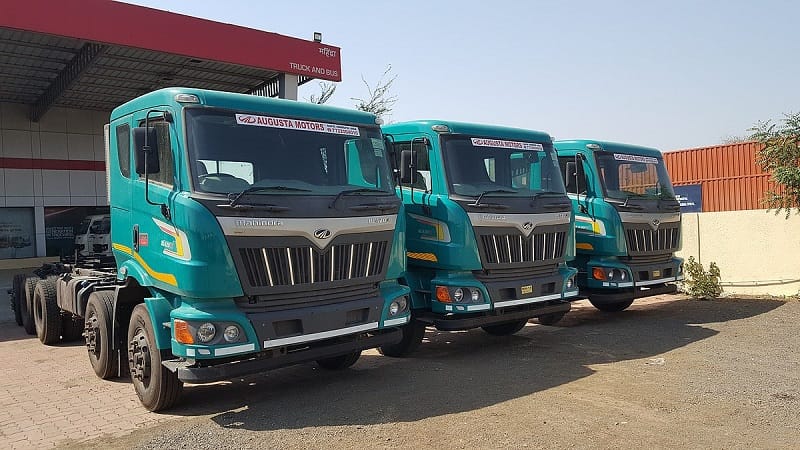 The Mahindra Blazo X 28 truck is a powerful, efficient and reliable multi-axle rigid truck that can meet the transport needs of any type of business.
These trucks can carry various types of cargo and offer excellent mileage. The engine of the truck is incorporated with advanced mobility solutions that ensure hurdle-free works.
The truck also comes with a reputed Mahindra & Mahindra house. Despite its powerful engine, the Blazo X 28 truck comes within the budget of a businessman.
The engine of the Mahindra Blazo X28 Truck is mPower 7.2 Ltr. FuelSmart Engine. It has a 395 mm Diaphragm single plate dry type clutch. It is available in 4250 mm, 5350 mm, and 6100 mm wheelbase.
It offers a great mileage and can save fuel. The Blazo X 28 truck also comes with standard seating and standard features.
The Blazo X28 truck has a cabin that scores highly in comfort and safety. The cabin of the Blazo X28 was designed after extensive research and is safe for long-haul operations.
Its four-point-suspension cabin enhances driving comfort. The Blazo X28 is offered with a cowl-style, full-built, and cabin variants.
Tata Signa 5530.S Tipper
Powered by a 6692 cc Cummins ISBe SCR 6.7L engine, the Tata Motors 5530.S Tipper 10 wheeler truck comes with a host of advanced features to provide a superior in-cab experience.
Its high utility space and tilt and telescopic steering allow the driver to stay comfortable throughout long haul routes. Its new electronic system features a trip mileage indicator, tilt and telescopic steering column, and a Gear Shift Advisor.
Moreover, the truck's advanced engine and transmission systems have improved fuel efficiency and reduced emissions.
The Tata Signa 5530.S Tipper 10 wheeler truck features a 6 cylinder Cummins ISBe 6.7L engine, producing 300 HP and 1100 Nm of torque.
It also has a 9-speed gearbox and 6×4 axle configuration. The chassis of this truck is a ladder-type straight frame, and the wheelbase is 107.4 metres.
The new truck range from Tata is a comprehensive range of heavy trucks. The company's 'prima' truck was launched in 2008 as the 'global' vehicle.
It has won numerous awards for its versatility and durability, including Commercial Vehicle of the Year and HCV Truck of the Year at the Apollo Commercial Vehicles Awards in 2010 and 2012.
The Tata Signa 5530.S Tipper 10 wheeler truck features a combined weight of 55 tonnes and a 6-speed manual transmission for better braking and handling.
How to Choose a 10 Wheeler Truck That Meets Your Needs
Ashok Leyland 2823C Tipper
The BharatBenz 2823C is one of the best tippers in its class. It is highly reliable and requires minimum maintenance. It has a chassis size of 288 x 70 x 9 inches with a ground clearance of 290 mm.
The BharatBenz 2823C is equipped with an OM 926 BS6 engine that develops a maximum torque of 850 Nm. Its high ground clearance and long wheelbase are also notable features. It is the perfect pick for your hauling requirements.
This heavy duty dumper is available in two versions: the 2528CM and the 3128CM. The latter is equipped with a 'hub reduction axle' from Meritor, which provides superior torque and pickup.
The large face area of the crown wheel ensures greater contact area and improved braking response. It also comes with an anti-fuel theft system. This makes it an all-round truck that's capable of a number of different jobs.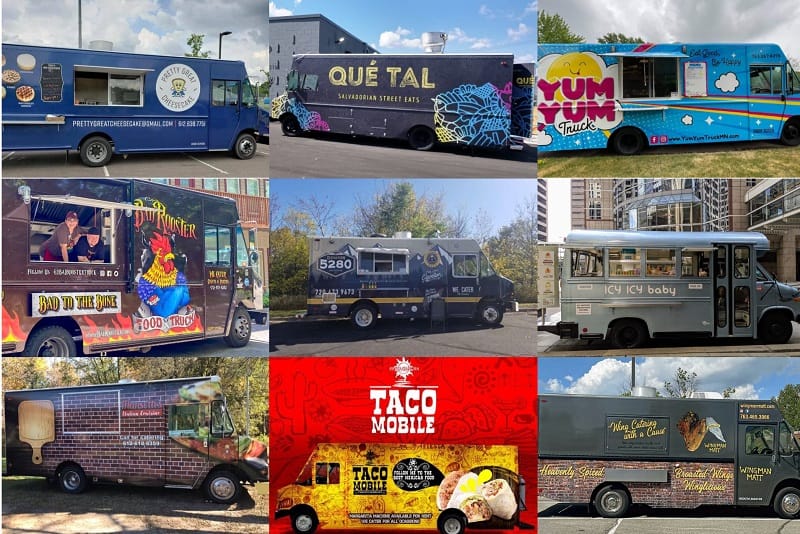 https://en.wikipedia.org/wiki/Mahindra_Truck_and_Bus_Division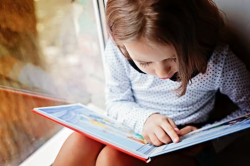 Latest posts by Divka Kamilah
(see all)