Cat 793 Rigid Dump Truck catdumptruck.com | If you're looking for a dump truck, you may be interested in the Cat 793 Rigid Dump Truck. It offers a high-load capacity of up to 231 tons.
In addition, it features a CAT 3516B High Displacement (HD) engine that can push it to a top speed of 37.3 mph on a 4.3-mile test. And with the MineStar Command system, you can haul more efficiently than ever.
Cat 793 Rigid Dump Truck
CAT 3516B High Displacement (HD) engine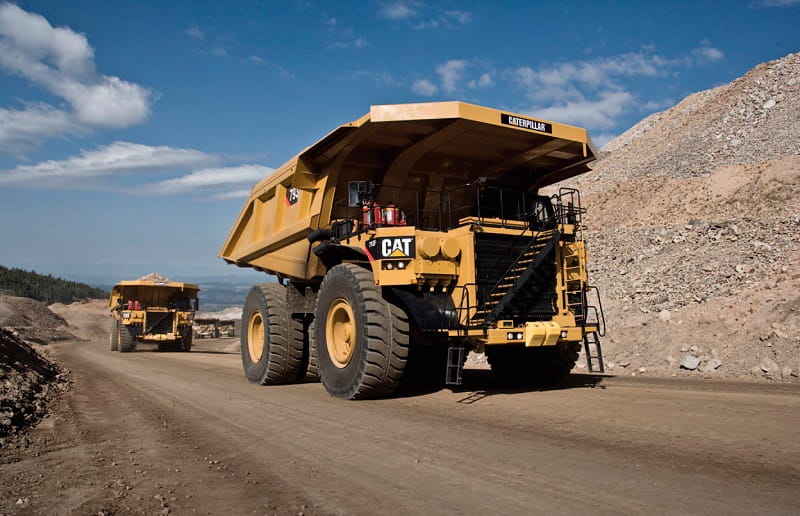 The Cat 3516B High Displacement (HD) engine is designed for power and efficiency. It has an aftercooled design that produces 5% greater power than a conventional diesel engine. This engine is also compliant with the US Environmental Protection Agency Tier I emission standards.
The 3516B engine is built to perform in tough applications. The 16-cylinder design provides a torque rise that matches the transmission shift points. These benefits result in unequalled lugging force and enhanced life.
In addition to this engine, the Cat 793D dump truck includes a mechanical power train that provides more power and reliability for rough and uneven haul roads.
A six-speed transmission with electronic unit injection makes smooth shifting possible. Plus, the high-pressure fuel system offers efficient burn.
A dual-slope body design reduces shock loading and maintains optimum load distribution. The CAT oil-cooled braking system connects parking brake and retarding functions, providing reliable performance on a variety of road conditions.
Other features include a supplemental steering system that uses pressure accumulators to provide three 90 degree turns in the event of an engine failure. In addition, the cab's ergonomic design is geared to operator comfort. Also included is an external payload display.
Finally, the CAT data link ties all the various functions together. It increases production and component life while allowing for easy access to stored diagnostic data. Moreover, the new filtration system prevents cross-contamination.
Overall, the CAT 3516B HD engine is a great choice for the 793D. With its high displacement and aftercooled power, it offers increased efficiency and durability in demanding applications.
Combined with its traction control and hydraulic automatic retarder controls, it is sure to give you the best performance.
CAT MineStar Command for hauling can increase truck productivity by more than 20%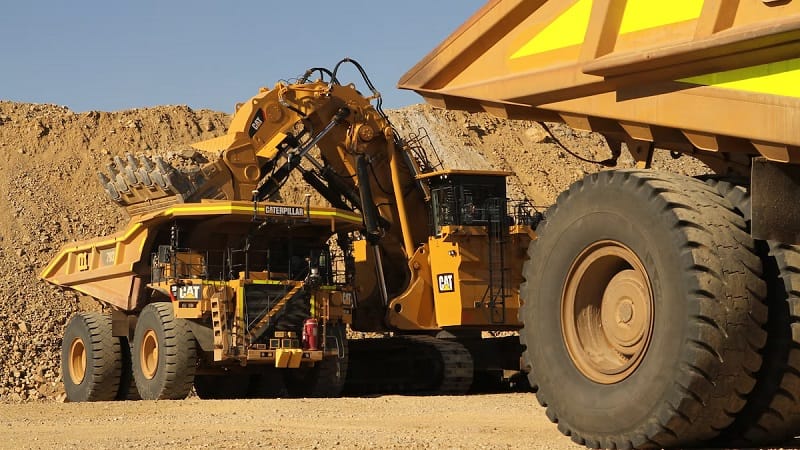 Caterpillar's new autonomous haulage system, called Cat MineStar Command for hauling, takes advantage of the most advanced technologies available. It enables autonomous trucks to operate on mine sites safely and efficiently, boosting productivity and reducing operational costs.
Cat's Cat MineStar System provides a scalable, semi-autonomous solution that is customizable to fit individual operation needs. With a suite of software, operators can run up to five trucks at a time. This provides increased efficiency, more accurate production estimates and real-time data analysis.
The technology has been proven in several mines around the world. The most recent autonomous mining truck deployments include one in the US and another in Australia. Other sites are deploying the system in South America.
In the next few years, more autonomous mining trucks are expected to be deployed worldwide. The cost of such a fleet is high, but the benefits are reassuring.
For example, autonomous trucks are estimated to have 11 percent better fuel efficiency than operator-driven vehicles. They also maintain stability and reduce operational delays.
Read More:
Articulated Dump Truck Meaning
Cat Dump Truck Models
Cat has been collaborating with Luck Stone, a large family-owned producer of crushed stone, on an autonomous haulage project. The company will use the system at the Luck Stone Bull Run plant in Chantilly, Va. A team of experts is helping Caterpillar develop a solution for the project.
Another major customer for the company's autonomous hauling technology is Imperial Oil. Caterpillar's technology has been used in the Kearl operation, which was operated in a remote northern location. There were challenges to the project, however, including unpredictable ground conditions and weather.
Ultimately, the company's flagship autonomous operation has seen productivity improvements of 30 percent. As Caterpillar continues to develop its autonomous solution, its customers can count on its expertise to help them maximize their investments.
Cat 793 Rigid Dump Truck
Top speed of 37.3 mph on a 4.3-mile test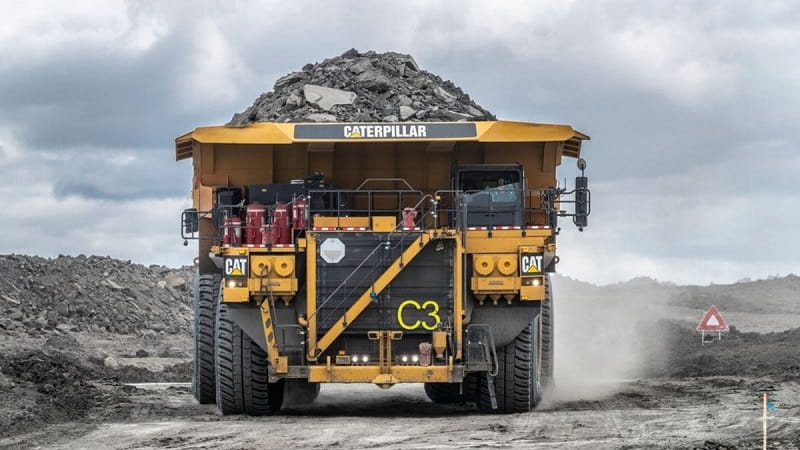 Taking the concept of a battery powered truck to the next level, Caterpillar recently unveiled the new 793 electric mining truck.
The company claims this is the first large-scale mining truck to use battery power. It also boasts the largest payload of its kind in its size class.
Using the Cat C175-16 engine, this awe-inspiring truck offers the perfect blend of power, economy and durability. A smooth shifting six-speed transmission is complemented by a powerful braking system.
For the ultimate in reliability, a Cat enhanced oil filtration system eliminates the need for frequent cartridge filter changes. This engine can burn up to 3.8 million liters of fuel before it has to be overhauled.
Caterpillar tested the 793 in Green Valley, Arizona. On a 4.3-mile (7 km) test course, the machine reached a top speed of 37.3 mph.
The company also showed off its patented regenerative braking function. When the truck was decelerated, the engine drew on stored energy normally lost to heat and redirected it to the battery.
Other notable features included an in-cab Driver Safety System, a high efficiency particulate air filter, and an optional AutoHoist. These features are meant to improve operator safety, reduce downtime, and minimize costs.
As for the new 793, the most important tidbit is that this new model features an impressive payload of 244 tons. This is the highest in its class. And the truck is capable of stowing up to 265 tons of equipment. During the demo, the truck was tested on a 10% downhill grade and climbed a 10% incline at 7.5 mph.
The new 793 comes equipped with a 254-mm (10-inch) screen that consolidates a number of display technologies. It also boasts an innovative rotor that improves ventilation while reducing respirable dust by 96%.
Rated payload of 231 tons
The Caterpillar 793 dump truck is a next-generation hauler that offers 6% more payload than its predecessor. Its new, ergonomic cab delivers the comfort operators need to get the job done. And with its high performance body design, the truck is able to carry up to 2.75 tons more than the MSD model.
When fully loaded, the CAT 793 haul truck can travel up to 25% of a grade. In addition, it has a top speed of 37 mph.
Designed for maximum durability, the machine uses a long-life, mild steel frame. As an added bonus, the truck has 1,000 hour hydraulic filters to save time and money on regular maintenance. Also, its electrical connectors are sealed against dust.
Another benefit is the improved service center, which helps reduce time spent on regular maintenance. An optional AutoHoist simplifies the body dump and reduces the dump cycle times by up to 12 seconds.
With a rated payload of 231 tonnes, the Caterpillar 793 F model is the largest in its class. While the 793 and 793B haulers are known for their excellent safety and reliability, they also have unmatched dealer support. They are also extremely efficient.
As well as its superior productivity and payload, the Caterpillar 793 dump truck comes with enhanced automatic retarding control. This advanced technology automatically selects the optimum speed based on brake oil temperature and the payload.
Lastly, the Cat 793 haul truck has a screen that consolidates all the information and guidance on the machine into one convenient display. This enables the operator to spend less time looking at the machine and more time on the job.
Despite its impressive capabilities, the Caterpillar 793 is not the first heavy-duty electric dump truck. Several other manufacturers have already introduced electric vehicles.
Rigid Dump Trucks spare parts
Cat has some serious chops when it comes to off highway heavy duty construction and mining equipment. This includes some of the best truck and trailer combinations on the market.
Among the products in the company's current offerings, the 793 is an especially impressive beast. The aforementioned machine boasts a hefty 8,000 pounds of payload capacity, and an equally impressive 3,000 pounds of haulage capability. As such, the 793 is a good choice for large-scale jobs requiring a heavy duty workhorse.
Moreover, the manufacturer has recently launched a full-service maintenance and repair facility to serve the needs of its customers in North Carolina and Texas.
In fact, Cat has been an industry leader in the construction and mining arenas for decades. Likewise, its seasoned echelon of engineers and technicians is well-versed in the field.
From the nifty o'clock to the nifty midnight, Cat's dedicated workforce provides the requisite support to ensure that your construction equipment is in top-notch shape at all times.
Unlike many of the company's ilk, Cat provides a comprehensive warranty and aftermarket program to boot. With a total of ten parts manufacturers in its stable, the company has a large arsenal of parts to choose from, with the ability to swap out a slew of components within a matter of minutes.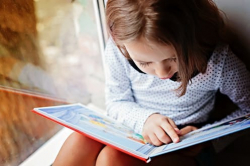 Latest posts by Divka Kamilah
(see all)